Hello Mari Vineyards Guests!




Re-Opening was a success for us, and we feel confident we are able to expand some operations at this time.
Please read below for a note about following guidelines & policies while at Mari Vineyards.
Hello Mari Vineyards guests!
Summer has been exciting to say the least, and we have appreciated everyone's patience as we gain our footing reopening during this strange time. We would like to take this opportunity to revisit some of the guidelines we have in place to better outline our expectations during your visit, as well as ensure you have all the information needed to stay safe at Mari Vineyards.
Please take note of the following (some of these are reiterations of previous policies, but we wanted to be certain we make ourselves clear & understandable):
Once guests exit their vehicles, they are expected to have a mask on. This mask MUST stay on for the duration of your visit to Mari Vineyards. Masks may be removed while the guest is seated, but must be put on as soon as the guest stands back up. This extends to all of Mari Vineyards property, to include the lawn and parking lot.
Masks must cover both your mouth and nose.
When visiting, please head immediately to the host stand. The host will instruct guests on what options are available during their visit, and assist in answering any questions.
The tables on the patio & the Terrace space are available by reservation. Please do NOT approach a table without being led there by a staff member. Each time an individual comes in contact with our furniture, it must be sanitized. If guests are approaching tables & chairs without allowance via staff, we may not realize that this furniture needs to be sanitized again, thus making it unsafe for the guests who have made reservations to use that space.
If you see empty chairs on the patio, again, please do not attempt to use them. If you are looking to sit on the patio, you MUST be guided to a table by a staff member, either with an existing reservation or an approved walk-in. Guests are not permitted to take unattended chairs and create their own seating areas.
Please do not sit on the patio anywhere except in our approved spaces. Again, this means guests are not permitted to take & move empty chairs, sit near the fireplace, or again, be seated on the patio unless they have been led to a space by a staff member. We have very specifically placed seating areas according to the 6 foot social distancing requirements, and need everyone to assist us in not breaking those boundaries required to keep staff and guests safe.
There is no standing room on the patio. If you do not have a reserved space on the patio or Terrace, you are welcome to enjoy our first come/first serve lawn seating. But please, do not crowd the patio. Again, this negates our social distancing requirements.
For those enjoying our lawn, it is very important that the liquor license line is recognized. This is made apparent by a row of large rocks going down the hill. Guests are not permitted to go past this line, as it is where our liquor license ends. Please note that even without alcohol in their possession, guests are not permitted to go in or around our vines.
We will not be taking reservations for the patio for groups larger than 6. This means that we will not split groups up among the smaller tables. If your group is larger than 6 guests, please inquire about our Terrace space. Please note that this space has limited availability. If the Terrace is booked, guests are permitted to enjoy our first-come/ first-serve lawn area.
Due to the extensiveness of our evening cleaning processes, last call for wine will be 30 minutes before close, no exceptions. While guests may not be able to get new glasses of wine after this time, they are welcome to sit and enjoy any wine they still have until close.
As always, please do not hesitate to reach out if you have any questions about our guidelines, policies, or reservation system. We greatly appreciate guests who are working diligently to help us keep our staff & business safe, clean, and operational. We understand that this is a strange time, and each business has their own set of rules and regulations, which is why we're always here to answer questions.
Remember everyone; Stay Safe, Stay Open!
The following guidelines are still in effect: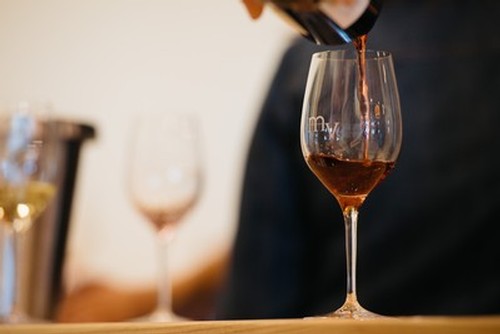 We have created a new list of policies, procedures, and guidelines for both winery visits & pick-up. If you have any questions about them, please reach out to us.

In the case of rain or poor weather, our outdoor seating may not be available. We will do our best to accommodate reservations at another time.

🍷 New hours are as follows: Sunday,11am-5pm; Monday-Thursday, 12pm-7pm; Friday & Saturday, 11am-7pm.

🍷 Our lawn is open for first-come/first-serve blanket seating to enjoy wine by the glass. Blankets must be brought by guests; Mari Vineyards will not be supplying any. We will outline proper 6ft social distancing in this area, and guests are required to adhere to this social distancing while on property. Update! We now have picnic tables and tents on our lawn. These areas have limited seating, and social distancing still applies in these areas. Please remember that guests must be wearing masks while up and about, regardless of where they are on the lawn or on the patio, but may remove the masks once they are seated and enjoying their wine.

🍷 Groups of up to 15 guests are permitted on our upper terrace. This is another space available only by reservation. Guests seated in the upper terrace must be 1 single party, no multiple parties of guests. Reservations will be available on the hour, and will last 50 minutes.
🍷 We are now permitting select Tour Companies to bring guests to Mari Vineyards. Please double check with your tour service provider that they are on our approved list. Tour companies will be responsible for making reservations on behalf of the guests.
🍷 We are restarting our Music at Mari Summer Series. At this time, live music is every Thursday from 4-6pm, weather permitting.

🍷 Reservations must be made by phone. If you are not able to get through via phone, please email Jenna@marivineyards.com with your preferred time & guest count. Please note that phone reservations will be given precedence, and all emails are answered in the order they are received.
🍷 We will be offering only wine by the glass service, wine flights, and bottle sales at this time. Wine flights are only available for those enjoying reserved seating, and will not be available on the lawn. We will not be offering tastings, private tastings, private tours, or walking tours. As we have food now available for purchase (Mari snack packs that have a selection of meats & cheeses), guests are not permitted to bring outside food or beverages on site.
🍷 Guests are invited to sit on our patio furniture by reservation, or sit on our lawn on a first-come/first serve basis. We will not be allowing guests to linger in the parking lot or stand on the patio. The only occupiable space will be the pre-set patio furniture. The furniture will be spaced according to the 6 foot social distancing requirements. Guests will not be permitted to move the furniture.
🍷 Guests are highly encouraged to call ahead to make a reservation for a seating time: 231.938.6116. If a reservation hasn't been made, we will do our best to accommodate guests based on openings available. If you are able to wait for the next open reservation time, we ask that you do so in your car. We will take your phone number down and call you when your table is ready.
🍷 Reservation times will be between the following times, specific to certain days:
Monday-Thursday, between 12pm and 6:10pm, with a firm closing of 7pm.
Friday & Saturday, between 11am and 6:10pm, with a firm closing of 7pm.
Sunday, between 11am and 4:10pm, with a firm closing of 5pm.
Reservation times will last 50 minutes, to give staff enough time to clean between guests. Reservations max out at 6 guests per party. If guests are more than 10 minutes late for their reservation, they will lose their spot.
🍷 Guests must adhere to our social distancing and mask requirements as they extend to the whole property.
🍷 We are now allowing pets on the patio & lawn. Please keep them leashed at all times, and refrain from allowing them to be a point of attraction to other guests.
🍷 Guests may enter the building through the front door for restroom use only, and are required to be wearing a face covering when entering the building.
🍷 Guests will be able to place orders at our mobile bar, located at the North facing exit of the tasting room. Guests must be wearing a face covering when placing & receiving orders.
🍷 Guests found not following our policies will be asked to immediately leave the premises.
We will be continuing pickup as well. For pick-up, please follow these guidelines:

🍷 Call 231.938.6116 to place your order prior to pick up & prepay. We will put your order together for you.
🍷 Call the same number to let us know that you've arrived, and what car you're driving. We will bring your order out to your car.
🍷 If you'd like us to put your order in your trunk or backseat, please open that door prior to us arriving at your car.
Please note that these are temporary guidelines. We may increase or decrease our measures at any time. We may also increase or decrease our hours or availability, due to staffing. Please note that in addition to the guidelines for visiting above, we are keeping up with our strict standards for cleanliness and sanitation.
As we said during our first week of opening, please remember that guests not following the new & existing guidelines will be asked to leave. We have appreciated those who have been patient with us during this time of trial and error, and hope that you continue to enjoy your time visiting us, or enjoying your wines from home!