Hello Mari Vineyards guests!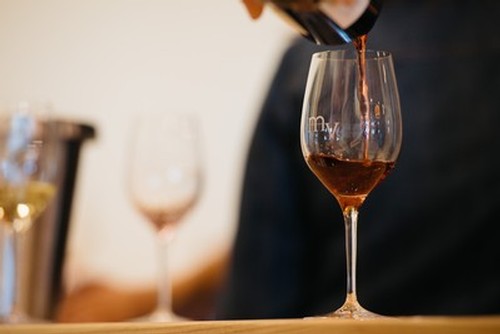 Winter is here, and we have prepared a safe & enjoyable environment to enjoy
wine indoors, while also retaining some outdoor seating for our winter-loving guests.
Please read below to learn more about what experiences we have available, how to plan your next visit, and what guidelines & policies we have in place.

---

As of February 1st, we are reopening indoor operations in accordance with state regulations. Thank you for your patience as we navigate the newest MDHHS orders. We will be operating as follows:

Hours
Open 7 days a week for both indoor and outdoor service, as well as curbside pickup.
Sunday-Thursday 11-5pm, Friday & Saturday 11-6pm.
Last Call - Due to the extensiveness of our evening cleaning processes, we will stop serving 20 minutes before close, no exceptions. While nothing new will be poured, guests are welcome to sit and enjoy any wine they still have until close.

Experiences
Wine by the glass, flights, tastings, charcuterie boards, and tours will be available. Learn more here. When visiting, please head immediately to the host stand. The host will instruct guests on what options are available during their visit, and assist in answering any questions.
Reservations
Please make your reservations on our TOCK platform. Reservations are not accepted by phone.
Masks
We will continue to require guests to wear masks at all times while on property, both inside and outside. This mask MUST stay on for the duration of your visit to Mari Vineyards. Masks may only be removed while the guest is seated and actively drinking or eating, and must be put back on as soon as the guest finishes. Masks must cover both your mouth and nose.
Seating
Seating is 4 guests per table or tasting slot. Groups with more than 4 guests must reserve multiple tasting slots or split up for walk-up table service. No more than 2 reservation slots per group. Tables are spaced at least 6ft apart. Guests MUST be seated to enjoy wine. All tables are all first come first serve. Seating capacity for each designated section is a maximum of 4 people. Please do NOT move any furniture as everything is spaced out according to 6 ft social distancing guidelines. If sitting outside, please remember that although we're making every effort to keep the patio as warm as possible, it's a good idea to dress accordingly.
There is no standing room on the patio as it would negate our 6 ft social distancing requirements.

Contact Tracing
All guests that visit must record their name and phone number with the host. MDHHS requires businesses to take names & contact information for all guests to assist in contact tracing.
Curbside Pickup Instructions
Call 231.938.6116 to place your order prior to pick up & prepay. We will put your order together for you.

Call the same number to let us know that you've arrived, and what car you're driving. We will bring your order out to your car.

If you'd like us to put your order in your trunk or backseat, please open that door prior to us arriving at your car.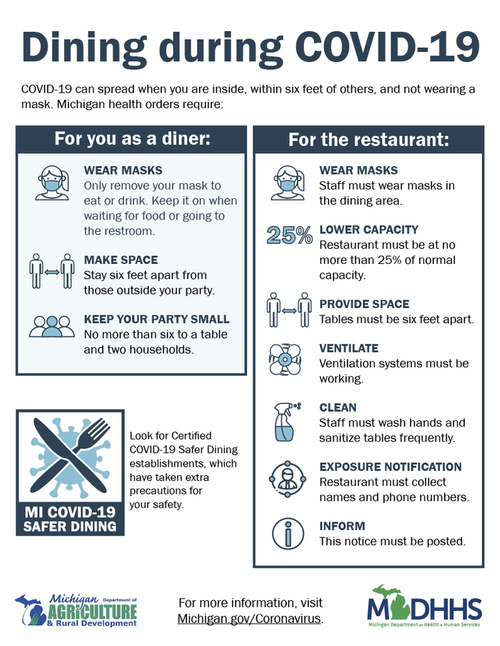 We appreciate your kindness and leniency during this time. We will work hard to continue to offer our guests the high level of service they expect in whatever capacity we are able. As always, please do not hesitate to reach out if you have any questions about our guidelines, policies, or reservation system.

We greatly appreciate guests who are working diligently to help us keep our staff & business safe, clean, and operational. We understand that this is a strange time, and each business has their own set of rules and regulations, which is why we're always here to answer questions.
Remember everyone; Stay Safe, Stay Open!
Please note that these are temporary guidelines. We may increase or decrease our measures at any time. We may also increase or decrease our hours or availability, due to staffing. Please note that in addition to the guidelines for visiting above, we are keeping up with our strict standards for cleanliness and sanitation.
Guests not following the new & existing guidelines will be asked to leave. We have appreciated those who have been patient with us during this time of trial and error, and hope that you continue to enjoy your time visiting us, or enjoying your wines from home!