Come discover the secrets in the Mari Vineyards Caves!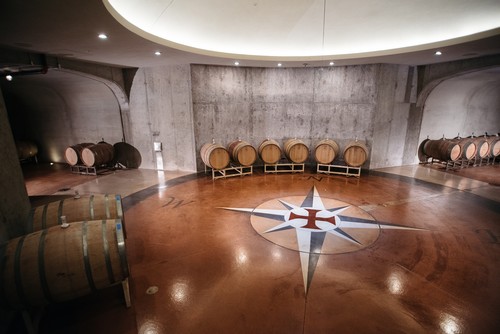 Mari Vineyards is offering private tours and tastings and an opportunity to explore our fantastic new building. When you visit Mari, your tour will consist of an in depth visit of our 31,000 square foot facility. The tour starts in the tasting room, where you will learn about our unique building. Your tour guide will then take your group down to the production facility area and educate you about our individual wine making process and the magic behind our one-of-a-kind wines. End your tour in our wine caves and enjoy a private wine tasting amongst our aging barrels of wine.
Please call ahead to reserve your spot. We recommend at least a week in advance due to demand. We require a minimum of 2 guests for our Private Tour & Tastings. Plan to show up 15 minutes early so you have time to check in. Due to the positive response, our tours fill up quickly and your space may be given to another guest if you are unable to arrive prior to the tour beginning. To ensure an enjoyable experience and opportunity to have your questions answered, tours are limited to 18 guests. Tours must have a minimum of two guests.
Private tours may be scheduled in advance for Sunday and weekday reservations.
The tour and tasting is $50 per person.
Your experience includes a tasting, full tour, and charcuterie. Mari provides one charcuterie board for every 4 people in a tour, up to 4 charcuterie boards. Additional food is available for purchase. We recommend setting aside 90 minutes for the private tasting and tour.
Call 231.938.6116 today to book your tour.