Caves
Naturally occuring caves have been used for over 6,000 years to store & age wine. Prehistoric winemakers near the Fertile Crescent learned that cool temperatures and high humidity created an ideal environment for wine vessels to age. During Roman times, wine was stored in catacombs that replicated these conditions, and in the late 1800's California saw its first wine caves constructed. Following these traditions, we've built 8000 square feet of wine caves. Their placement underground maintains a consistantly cool temperature of 55 to 65° fahrenheit, providing our barrels the perfect setting to age our estate wine.
Spanning between 17 to 35 feet underground, the concrete slabs that form the cave walls were precast in vault arch forms and sit 10 inches thick. This impressive structure took nearly 7 months to complete. Check out the timelapse video below to see the entire process!

Solstice
Just as thousands gathered to witness the summer solstice sunrise at Stonehenge, a small group of friends and family came together to watch the sunrise at Mari Vineyards. As the sun rose slowly from the horizon, the chatter from the echoing caves fell to silence for the first summer solstice at Mari Vineyards.
Our wine caves align with the earth's patterns so that each year the sun rises in the center of the "summer solstice" passage, looking out towards East Grand Traverse Bay. But this layout wasn't merely the result of luck.
Owner Marty Lagina carefully designed the wine caves to bring in this summer solstice light. Marty's inspiration for the design came from locations in Ireland such as Newgrange—a prehistoric monument that is aligned with the rising sun and is flooded with light during the winter solstice.
Marty also took cues from the history he encountered in his endeavors on Oak Island, right down to the Templar Cross inscribed at the center of the "Oculus."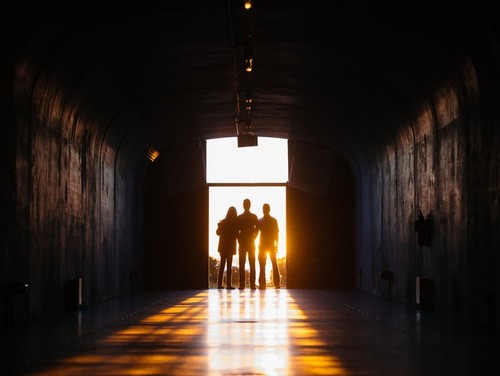 Photo courtesy of Two Twisted Trees Photography
---
Oculus
At the center of the wine caves is our Oculus, which is 32 feet in diameter. In the ceiling of the Oculus is our Iris, boasting a circular opening at the center of its domed ceiling. This allows light to shine down from above ground, right in the middle of our vineyard. At the focal point of this light and the center of the Oculus is a large compass rose which points at the sun's position during the solstice.
When asked what his favorite aspects of the design were, Marty responded, "the interplay of light," "connectivity" and "the clockwork of the earth."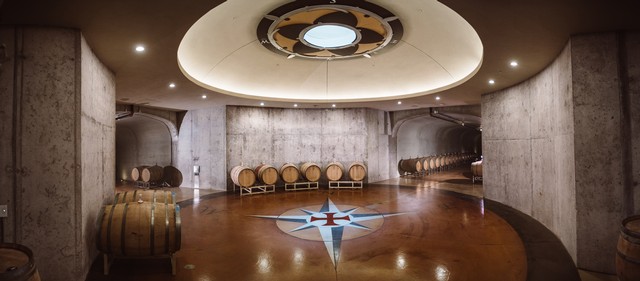 Photo courtesy of Two Twisted Trees Photography