June 13, 2017 | Villa Mari Vineyards
Mari Vineyards' 1 Year Anniversary
Saturday, June 17: 11am-7pm
Mari Vineyards will be celebrating its One Year Anniversary of its Grand Opening! To share our excitment, we are doing a few special events:

We will be having half priced tours in the building led by VIP personel. Visit our website now to buy your tickets, as spaces are filling up quickly!
Winery Tours: 12:00, 2:00, 4:00
Vineyards Tour: 1:00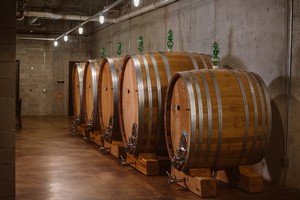 Some of our favorite musicians will be spending the day with us as well! Amanda Igra and David Husser will be returning with Amanda's beautiful voice and the duo's skill in guitar, mandolin, and ukulele. Both musicians are not only performers, but teachers in the area as well. They will be playing from 1-3pm!

A new musician will also be joining us! Chris Smith is a Chicago-based musician, native to Traverse City, who has been performing around the Midwest for the last 6 years. Aside from being an artist and performer, Chris has dedicated years of world touring as an ambassador of arts education in schools and communities around the globe with the non-profit organization, The Young Americans. We are very excited to have him come play from 4-6pm!

Please come join us in celebrating an exciting and successful first year at Mari Vineyards!